Geocaching with ExpertGPS: Better Maps mean Faster Finds!
The Secret to Successful Geocaching
ExpertGPS is the secret tool used by many successful geocachers who race to be the First to Find! With seamless USGS topographical maps and aerial photo coverage of the entire United States, ExpertGPS makes it easy to plan out a day of geocaching, locate parking, and get a bird's eye view of the terrain before you go.
TopoGrafix and Geocaching have a long history together, dating back to origins of the game. Dan Foster, author of EasyGPS, and Jeremy Irish, founder of geocaching.com, worked together to create the .loc file format used to transfer geocaches to EasyGPS so that geocachers could send caches to their GPS receivers without having to type in coordinates by hand. A few months later, Dan, Jeremy, and some other authors got together to create the GPX exchange format, now used by every popular GPS and mapping program. EasyGPS uses GPX internally, and continues to be one of the leading programs for viewing and creating GPX data.
ExpertGPS: Mapping Software Just for Geocachers!
With so many geocachers using EasyGPS, Dan created a new program just for geocaching. ExpertGPS has the same easy-to-use interface as EasyGPS, and takes it one step further with full geocaching support. A built-in geocaching Web browser, support for Travel Bugs, automatic cache logging, and mobile device data transfer are just some of the new geocaching features in ExpertGPS.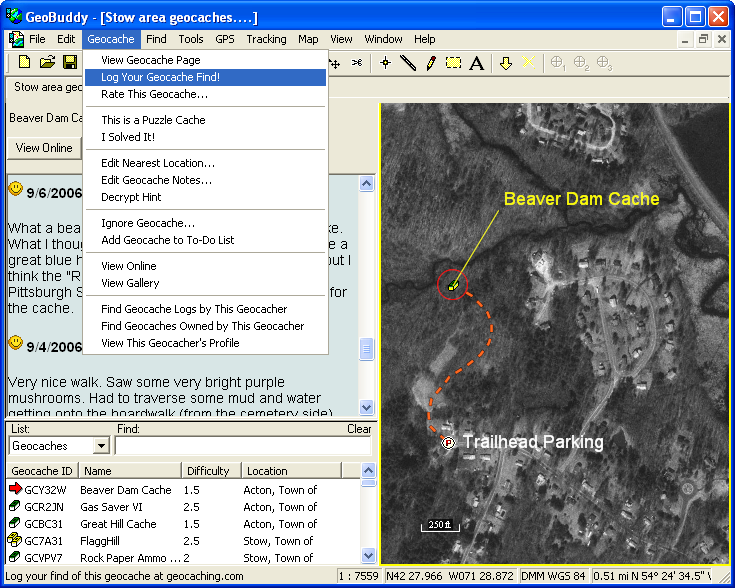 If you are an occasional geocacher, or an outdoor-enthusiast who would like to try geocaching someday, EasyGPS is the right choice for you. If you are a full-blown Geocaching Addict, or see yourself becoming one, you'll appreciate all of the extra geocaching features in ExpertGPS.