Download EasyGPS: Free Software for Garmin, Magellan, Lowrance, and Eagle GPS Receivers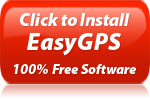 EasyGPS 6.17 (4 Megabytes)
New features added on August 30, 2018
Requires Windows 8, 7, Vista, or XP.
EasyGPS is 100% free software. No nags, no ads, no spyware. We wrote EasyGPS because there is a serious lack of simple, easy-to-use software for transferring data between your GPS and your computer, especially if you own more than one GPS receiver. We also wrote ExpertGPS map software, a powerful mapping program that displays your GPS data over topo maps, aerial photos, and your own scanned maps. We invite you to download a free trial of our ExpertGPS GPS software.
Sorry, EasyGPS is not supported on Windows 98, Windows 2000, Macintosh, Mac OSX, or Linux.